A storage locker is a great place to store seasonal items, larger items, or other belongings you want to have accessible to you, while keeping your apartment clutter-free. Availability of storage lockers for rent will vary by building, so be sure to check with your Resident Services Centre to inquire about the space and cost for using these for yourself.

Bins/storage containers are your friend! Storage lockers can quickly become disorganized so here are some helpful ways to keep your locker organized to easily access any needed items using clear plastic bins.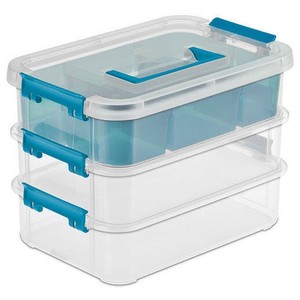 Oxford Pro tip: Buy multiple versions of the same bin shape and style. This will make stacking easier, and make for better use of limited space.
Use clear plastic bins for clothing, accessories, and smaller items.

Write or print out a visible inventory of the bin's contents and place inside the bin facing outward for easy viewing. Or tape on the outside.

Organize by season, by room, or by event. For example, have a bin to cold weather clothing and accessories (one bin per person if needed), and another for holiday decorations. This can be stored in a 'winter' section. You can also organize by room, i.e. a bin for kitchen items/utensils, and another for office supplies.

Organize by person – dedicate a bin per person to store each child's old toys or special artwork, and a bin for each parent's crafts/hobbies/special belongings.

For larger items like sporting equipment or tools, do not place on top of stacked bins as they may fall. Try to keep organized by season or person for easy access.

Reassess your storage items quarterly or annually and get rid of any unwanted items. Declutter when possible!
Remember to keep all items contained within the locker, no loose items are to be stored within the storage locker space, as this can be hazardous to the safety of you and your neighbours. Find yourself a solid lock, to ensure that your personal items are kept safe. While Oxford does keep watch over these areas, we ask that you ensure your locker is kept secure by using a strong padlock at all times.
By following the handy tips listed above, your storage locker will stay organized throughout your residency here at Oxford Properties.